It's been Devine intervention all around.
First, there's my grandma. Last weekend, we spent 7 hours putting up tomatoes: sauce, whole tomatoes packed into jars, stewed pieces, salsa.  Earlier that day, before I arrived at her house, she'd spent a good chunk of time running up and down the basement stairs, chasing after the 8 or so cats that share her home (you see where I get it).  Before that, she spent an hour riding her "tractor" (as she calls the riding mower) over her acre of land, knocking the grass and weeds down to an un-gossip-worthy height. And then she hauled out the weed-whacker and tamed the property's perimeters.
But before that – a few weeks before — my grandma clocked in at 92 years old.
You've met my grandma before – remember the shoe incident when I was 6?  And the biscuit cutters? Yes, that's the one.  It probably won't surprise you then, that we had the following exchange during our canning adventure:
Grandma (flipping through the 1867 edition of a pages-missing, tomato-streaked and jam-smeared Ball Canning book):  Let's see, for the raw-pak tomatoes, we'll pressure cook at 5 lbs of pressure for 10 minutes.
Me: Are you sure? That doesn't seem very long for tomatoes.
Grandma:  I'm reading it right here. (Waves book at me. A few more pages slide out and drift under the easy chair she keeps in the kitchen for when she's snapping beans and shelling peas)
Me: But aren't tomatoes pretty susceptible to botulism?
Grandma: I've never had botulism.
Me: You can't see it, isn't that the problem with it?
Grandma: I've never had it. I'd know.
Me: Well, yeah, you'd be dead.  I just want to live through the winter.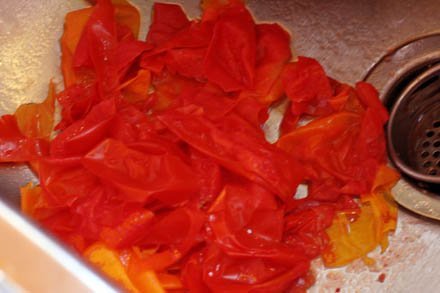 Meanwhile, my friend Steph gets a frantic text from me.  I consider Steph the #2 expert on all things Mother-Earthy, after my grandma. And Steph's  #1 in her concern with the formalities of procedure. In her kitchen in upper Iowa, Steph consults her shiny, intact, late-edition Ball canning book and texts back an answer.
Me: Okay, Grandma, I think we need to boil at 10 lbs of pressure for at least 10 minutes, and 20 for the sauce.
Grandma: (patiently, humoring me while she herds wayward pages back into the Ball book): That's not what it says here.
Me: But these guidelines get updated every year, Grandma. I know we have to cook them longer. I just looked it up.
Grandma: Looked it up where?
I hold up my iPhone.
Grandma: On that? (She snorts dismissively)
Finally I decide that she's been alive for 92 years so she can't be doing anything egregiously wrong. And, later I'm humbled when Grandma saves me from shooting my eye out with the pressure cooker steam gauge. The Ball book – yes, hers, the old one – sagely advises to add 2 quarts of water to the pressure cooker when you're canning pints. And here I was preparing to fill it up and submerge the jars ("Whoo-ooo, my girl, you would've lost an eye and maybe half of my kitchen," my grandma hoots. But then she admits that she shot her own eye out once and that's how she learned).
My grandma. We should all be so blessed as to have one like this one.
And then there's Diane Devine. Diane works with Simon, and she and her husband have been beyond generous in sharing the riches of their vegetable garden this year. Week after week, Diane has brought in box after box of ripe, lush, dewy tomatoes and cucumbers. Her generosity feels nothing short of miraculous to me, because if Simon and I had to rely on our little veggie patch this year, we would have enjoyed exactly three cherry tomatoes. For the first time since I planted my first dill and lettuce seeds at Grandma's house over 35 years ago, I'll be having a no-harvest year.  I don't mind admitting how much this upsets both my pride and my vision of myself – and my plans to go BPA-free this winter.  Chalk it up to unrelenting heat, irregular hot-and-cold patterns early on, or the fact that this is the 5th year in this garden and we lack the space for crop rotation  – I had many theories.  And very few tomatoes.   Until Diane.
It's strange, but I think that because of Diane this has been my biggest tomato year ever.  Not to mention the cucumbers and other veggies. With her kindness, and with Grandma's wisdom, I've put away pints of tomato sauce, whole tomatoes, cucumber salsa, peach salsa, cucumber relish and tomato bruschetta topping.
Divine or Devine, I'm feeling truly blessed.
Blueberry-Thyme Muffins with Toasted Almonds

And you expected we'd be making something with tomatoes, didn't you? Well, last time I showed you how to make authentic crème fraiche using active cultures, and if you've done that (or if you're thinking about it) then you need something moist and gently sweet to spoon it onto.  Besides that, there's the whole liability thing involved with canning. I do not wish to feel responsible for any stomach woes.  As you may realize, there are so many imaginative ways that home-canned food can go wrong if the procedure is not done correctly – even if the recipe is followed precisely. I'm extraordinarily careful with my canning methods (ask my grandma), but I can't see what you're doing in your kitchen, so I'm going to have to encourage you to go ask your own grandma, or barring that, to consult a good book or the frequently updated National Center for Home Food Preservation website.
My vegetables may not have fared well but this year my herb plants are bursting well beyond the edging of the beds. The basil patch is teeming with happy, pollinating bees, and the tarragon, thyme, oregano, marjoram (started from seed!), parsley and dill make me feel like a wealthy girl. And so because of these riches, I've been experimenting all summer with using savory herbs in creative ways.  This combination, thyme and blueberries, just may be my favorite discovery of the year.
[But, before we move on to the recipe, I do need your help. I have big plans for next year's garden (it'll be a new yard, after all), and my visions of next year's putting up are opus.  And I'll need to graduate to a larger pressure canner. Do any of you have one? Here's what I want (though if I find it, I realize it may be prohibitively expensive): a stainless steel 23-quart pressure canner. Have you ever seen such a thing? Barring that, do any of you have recs for a non-stainless large canner? What things should I watch out for when aiming to buy (besides shooting my eye out with the steam gauge?]
Blueberry-Thyme Muffins with Toasted Almonds
6 Tbsp unsalted butter, room temperature
¾ cup sugar (I used turbinado and got very granular muffins the first time – there's a reason that baker's sugar is refined….)
½ teaspoon salt
1 egg
1 teaspoon lemon extract
Zest of 1 lemon
2 ½ cups all purpose flour
2 teaspoons baking powder
1/3 teaspoon baking soda
1 cup whole milk or buttermilk (buttermilk gives you lots of texture with less fat, plus the slightly sharp flavor)
8 ounces fresh or frozen blueberries
3 tablespoons fresh thyme (lemon-thyme, if you have it), minced
½ cup sliced and toasted almonds
Preheat oven to 375 degrees. Spray 2 muffin tins with nonstick cooking spray or lightly wipe with a paper towel dipped in oil – or line them with muffin papers.
Beat the butter, sugar and salt in a mixing bowl until light and fluffy, then scrape down the sides.  Add the egg, lemon extract and lemon zest and mix well.
In another bowl, whisk the flour, baking powder and baking soda. Add the butter mixture in two separate additions, stirring by hand and alternating with the milk. Mix until just incorporated, being careful not to over-stir.
Add the blueberries, thyme and toasted almonds and mix well.
Scoop the mixture into the muffin tins, filling just below the top of the tin.  Sprinkle the tops of the muffins with turbinado and bake about 20 minutes, until they are lightly browned and a toothpick inserted into the center of a muffin comes out clean. If you're using mini-muffin tins you'll halve the time.
Transfer to a rack and allow the muffins to cool slightly, then ladle a generous spoonful of the crème fraiche onto each one and serve.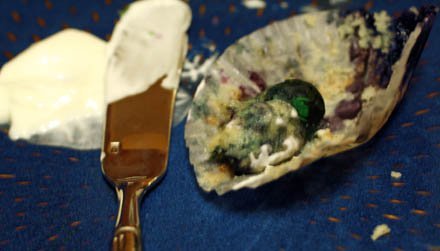 Tags: blueberry thyme muffins, canning, creme fraiche, pickling, putting up tomatoes