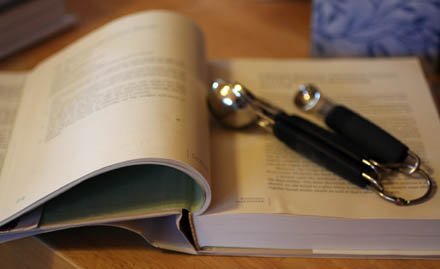 I really wanted to give you the peach rum syrup first, before peaches went the way of low-rise jeans. But I've missed the window and now both are out of season (if we're lucky, permanently on the latter). You might point out that I've been known to tease you with pomegranates in May though, and you'd be right. No, what's really determining the order of things here is the tomatoes. I really, really need your help.  That's why we're having pancakes.
While you adjust your neck braces, I want to tell you about Melissa Clark's new cookbook, In the Kitchen with a Good Appetite. It's a sneaky little book.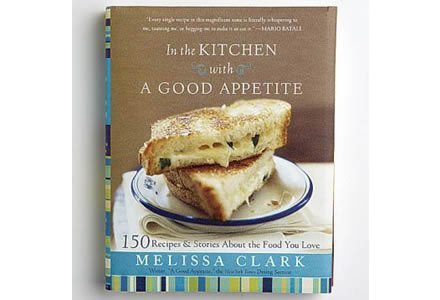 At first glance, I was not excited. Jokes about food porn persist for a reason: just take a look at my cookbook collection if you don't believe me. We like pining away after images of perfectly prepared foods that will never look at lush, as ripe, as juicy, or as perfectly plated in our own kitchens, no matter how seriously we take ourselves. In The Kitchen with a Good Appetite is elegantly laid out, with a muted sea-green palette, a combination of clean, Cambria and Calibri fonts printed on rich (sustainably forested) linen pages– but there are no pictures. Not even an insert.
It's while I was pondering that absence that the book started pulling me in. Melissa Clark is an artful story teller, and this really is a book of stories punctuated by recipes. If this book feels plot driven, it's because Clark knows a thing or two about that:  after testing the waters as a chef, Clark decided she'd rather write about food than prepare it (professionally speaking, at least), so she enrolled at Columbia University and earned an MFA in Creative Writing. In the Kitchen with a Good Appetite is her 29th cookbook and its title echoes her widely read New York Times Dining section column, "A Good Appetite". Her prose is confident and unapologetic, and her self-revealing parables are short (I have so much to learn from her), funny and forward-looking. Each one evolves effortlessly into a recipe that's generously shared, kitchen tragedies and all.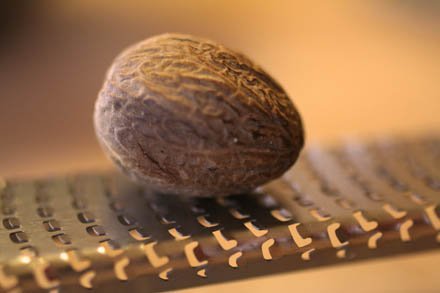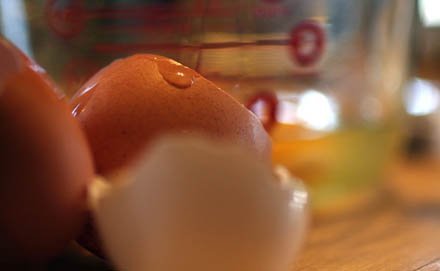 And those stories work a funny magic: they paint an experience more fully than a full-color photo ever will.  Clark tells us about her family's food-sharing ritual of taking a bite and then passing their plates "Clark-wise", or about how, when she and her husband were courting, she peered into his fridge to find nothing quite edible, save for a solitary, floating preserved lemon.  Like any wordplay worth its sea salt, these stories transport us. She launches into a tale about how her mother refuses to throw away food, even the wilted pile of pale watercress salad, leftover from the night before, and suddenly that makes sense. Why would you throw away wilted, sodden watercress, after all?  Naturally, there is no other place for these stories to end except in a recipe (for non-sodden cress, in this case).
A paragraph in and we begin to anticipate the food; two, and suddenly we're there, making it along with Clark, all senses charged. These stories become ours, because she gives them to us, and suddenly we can remember what it tasted like when our oldest friend brought us real Irish soda bread (which does not contain raisins, in case you were wondering). We can smell the cinnamon, taste the springy texture, and we can hear the hissing of the oven, or the oil in the skillet, or the steam rising from the pot.  By the time we've reached the recipe, we're hungry, and deeply attached to the idea of making that dish exactly.
Chances are, we'll be able to, too. These foods are prepared with the things that we'll already find in the kitchen, or the backyard, or, if we must venture out, at the corner market. These recipes are not designed, they're remembered and sometimes lovingly altered. And they're compelling. Once you start in, perhaps you'll find  that, like me, you have to just try one more…..I've gotten through these recipes, each of them lovely, and I've got three more queued up:
Red Lentil Soup with Mint, Tomato and Lemon
Cheesy Baked Pumpkin with Gruyere
Browned Butter Maple Cornbread with Fresh Corn Kernels
Raw Tuscan Kale with Chiles and Pecorino
Sweet Tofu Salad with Spicy Mustard and Pickles
St. Mark's Gooey Honey Butter Cake with Lemon and Cinnamon (I am from St. Louis, after all. And you  know what? Hers is better….)
Impossibly Fudgy Brownies with Chile and Sea Salt
Most recently I gave these a go, the Mysterious David Dares Pancakes: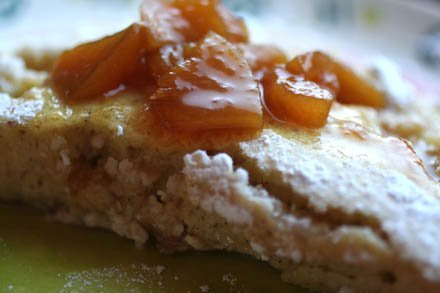 The Recipe: Mysterious David Dares Pancakes
This is the pancake sometimes referred to as a "Dutch Baby" pancake. In Clark's household they were called David Dares. Growing up, Clark had no clue as to the origin of the names, but she knew she looked forward to the pancake's appearance at the breakfast table, a rare thing in a home where bagels and lox were sacrosanct.  David Dares is a thick, eggy, souffléd pancake, poured over browned butter and baked in a cast iron skillet.  If you're going to serve it with peach rum syrup, as we did, then really it's more a brunch food than breakfast.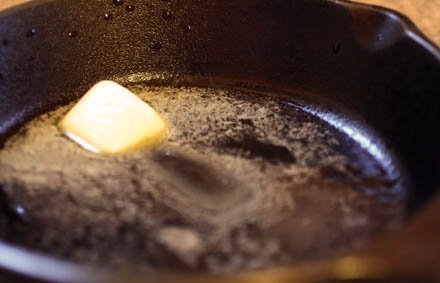 Ingredients:
3 large eggs, lightly beaten
½ cup milk
¾ cup all purpose flour
¼ teaspoon freshly grated nutmeg (I used more, plus some for garnish)
Pinch kosher salt
4 tablespoons unsalted butter
2 tablespoons confectioners' sugar
2 tablespoons fresh squeezed lemon juice
Preheat the oven to 425 degrees. In a medium bowl, whisk together the eggs, milk, flour, nutmeg and salt until combined. The mixture will still have some lumps and that's a good thing.
In a 9-inch cast iron skillet, melt the butter over medium heat. When the butter has melted, lower the heat slightly and allow the butter to brown – you'll see the golden flecks in it when it has. Watch carefully – it's hard to miss against the cast iron and you don't want it blackened. That has its merits, but not here.
Carefully pour the pancake batter into the skillet and transfer it to the oven. Bake until the pancake is golden brown around the edges, about 15 minutes.
Working quickly, take the skillet out of the oven and, using a fine-mesh sieve, shake the confectioner' sugar over the pancake. Return the skillet to the oven until the butter has been absorbed into the pancake and the sugar is lightly caramelized, an additional 2-3 minutes.
Splash the lemon juice over the pancake, cut into wedges and serve immediately.
And, if you haven't figured out what all this has to do with my dire tomato situation, it's not your fault. But I'll let you know tomorrow.