You carry a pepper mill, with extra-fancy French peppercorns, in your lunch pail
You keep a live rosemary tree in your office, because dried just isn't the same on pizza delivery.
You snort when someone says Starbucks
You named your firstborn Julienne
Your bumper sticker: End World Hunger Now! Reverse Unjust Import Taxes on Bresaolo
You can't bear the thought of bringing a child into this world, what with Burata being $21 a pound
Your kid (Julienne) thinks Kraft refers to summer camp activities
You store the Coca-cola in the bathroom so that it's on hand for cleaning the toilet
When your co-worker announces she's going out for a smoke, you expect her to come back with lox
You didn't know turmeric came as a powder
You want to know where the flavored salt aisle is in the Quick Mart
Your cat will only eat free-range chicken and wild-catch tuna
Hungry? Damn straight, you'll eat your import!
At McDonald's, you ask for a side of Pomme Frites
The hot wings you had for lunch were "piquant", with a hint of barnyard on the nose
Corgette and Saffron Vichyssoise with Barnes Mountain Beans and Prawns, garnished with Fried Julienned Zucchini and Saffron Threads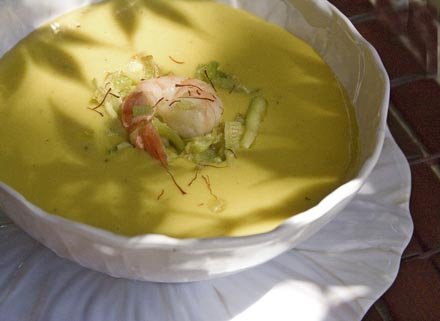 (Another sign you're a food snob: It takes longer to say the name of your dish than it does to eat it.)
Some signs that there may be hope:
You egregiously and shamelessly break The Food Rules, like adding beans to vichyssoise when everyone knows its creamy texture traditionally comes from leeks and potatoes.
Sometimes, just because you want to, you eat your vichyssoise slightly warmed. You find that it has a more vibrant flavor that way.
You lick the serving bowl when the last of the vichyssoise has been spooned into bowls, because the saffron and leeks add such a delicate, lemony flavor and it's so smooth and rich that it seems perfidious to waste even a droplet.
Before you could make vichyssoise, you had to remind yourself that it's pronounced vish-ee-swaz and not vish-ee-swah. Okay, so, you had to look it up because you just didn't know.
When you break the rules and use some beans in your leek and potato soup, you use an heirloom with a hillbilly sounding name like Barnes Mountain Cornfield Bean. You've happened to get this bean from the Sustainable Mountain Agriculture Center, Inc, an organization dedicated to preserving the agricultural traditions and diversity of the Appalachians. The eponymously named bean came, originally, from Barnes Mountain in Estill County, Kentucky, and the beans used in this soup were raised in my own backyard garden a couple of years ago. (I hate using up special things, which is why they've been kept for so long). They turned out to be creamy, almost oily beans, perfect for a chilled soup – even if it's served slightly warmed.Any creamy white bean would have worked nicely here — Cannelini or Great Northern.
Sometimes you accidentally call a leek an onion, and you never really refer to a zucchini as a corgette, except when you're trying to be Jamie Oliver, who is not a food snob but British, which are sometimes mistaken for the same thing.
So, really, this is just a lovely, farm-fresh chilled soup made with potatoes, onions, zucchini and beans. These ingredients come together so seamlessly it's like they were meant to be.
On the stovetop this soup lets off a delicate, almost floral (this is saffron's signature) fragrance as it simmers. In the mouth, it's creamy and lemony and decadent, even though it has only a small amount of cream. You could easily get away with using half and half or even whole milk (next time, I will) because the starchy beans and potatoes give the soup plenty of body and a lingering mouthfeel.
The Recipe:
2 small corgettes, peeled
2 leeks, white part chopped
1 ½ tablespoons unsalted butter
2 medium yellow potatoes
2 cloves garlic, minced
½ cup Barnes Mountain Cornfield Beans (or other white beans)
1/4 teaspoon saffron threads, crumbled
3 1/2 cups vegetable broth
1 bay leaf
1/2 teaspoon packed fresh thyme leaves
1/2 cup chilled heavy cream
Juice of ½ lemon
1 teaspoon salt
1/4 teaspoon black pepper
4 large prawns
1 tablespoon olive oil
Slice the outsides of the corgettes (from here on out, called zucchinis) away from the cores. Slice the outer parts into ¼ inch thick matchstick pieces. Set aside.
Chop the zucchini cores into ½ inch cubes.
Cut away the tough green tops of the leeks, then remove the outermost layer from the white part. Wash well (dirt hides inside the folds of these roots) and then chop into small cubes. Peel potatoes and cut them into ½ inch pieces.
Heat butter in stockpot and cook the leek pieces until tender and translucent, about 7 minutes. Add potatoes and garlic and cook another 3 minutes. Stir in saffron and beans and cook another minute. Add broth, bay leaf, and thyme. Simmer on medium-low heat until potatoes are soft and cooked through, about 20 minutes. Add chopped zucchini cores and simmer, uncovered, for another 8 minutes.
Let soup cool slightly and then purée in batches in a blender. Pour through a fine strainer into a large bowl. Stir in cream, lemon juice, salt and pepper. Let cool to room temperature, then cover and place in refrigerator until chilled, at least three hours.
Just before serving, heat olive oil in a small skillet. Stir-fry zucchini matchsticks until browned and tender, about 4 minutes, stirring often.
Heat a tablespoon of olive oil and cook the prawns until golden and cooked through, about three minutes on each side. Garnish soup with prawns and zucchini strips. Season with salt and pepper just before serving. If you wish to be decadent, soak just a bit of saffron in milk for a few minutes to soften and release the flavors, and then sprinkle each serving of soup with a few threads.
Tags: Barnes Mountain Cornfield beans, corgettes, food snob, leek and potato soup, vichyssoise