Kohlrabi Salad with Beets, Radish and Sunflower Sprouts
This was what I had:  produce that looked more like it had hurtled through our atmosphere than pushed up through the soil. Sputnik and Alouette 1 on a plate.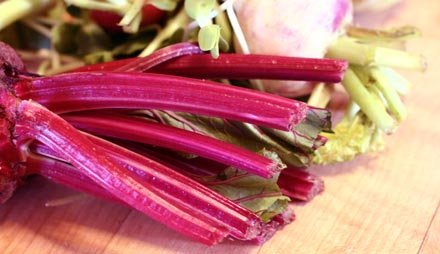 A bowl that conjured up a swirling galaxy: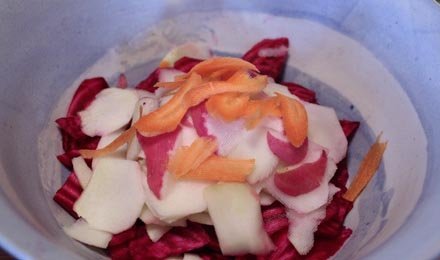 Primordial ooze.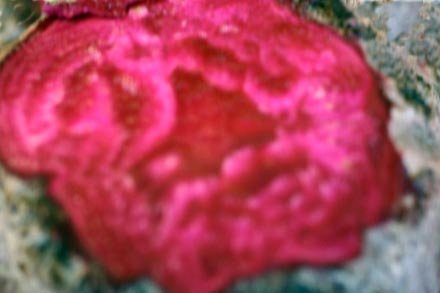 Ropey, DNA-like garlic scapes (oh, work with me here).
And this:
I asked for a rock of ginger and received a space station.
Foreign as it looked, it was all local.  Every last ingredient, save for the ginger and citrus. My self-assigned mission was straightforward: to eat all this lively produce raw. I didn't want to lose any of the vibrancy – or nutrients – to cooking.
So yes, you're all so smart. The weird little sputnik-esque vegetable that I teased with last time is kohlrabi. Okay, well did you know that even though it's associated with Asian cooking, it hails from northern Europe? Did you know that the word kohlrabi is a German one that literally means cabbage-turnip, and that this gives only a faint indication of what to expect when you bite in?  A member of the Brassica genus (same as cabbage and broccoli), the above-ground growing bulbs come in both white-green and purple. And not a bit of it need be wasted — tennis-ball sized bulbs are ideal, and when the plant is young like this the leaves may be eaten too.
So I'm curious to know – who has eaten kohlrabi? Who likes it and who doesn't? It's not terribly popular in the US yet, though I'm seeing more and more of it at the local markets this year, which must mean that that consumers are at least giving it a try. What do you make with it?
Those of you who haven't eaten it must be wondering: what's it taste like? To my palate, it's a cross between cabbage and radish – cruciferous and slightly peppery when raw, with a hint of potato (which is why they are so good added to mashed tubers). Cooked, it becomes creamy and rich.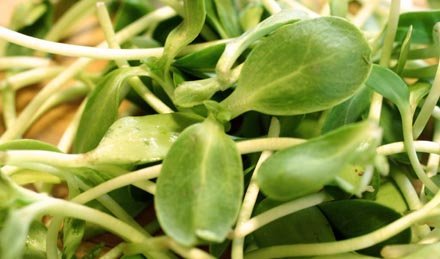 The recipe:
Kohlrabi Salad with Beets, Radish and Sunflower Sprouts
2 tennis-ball sized kohlrabi bulbs
2 small beets
2 carrots
3 radishes
1/3 cup sunflower sprouts (pea shoots or even alfalfa sprouts work here too)
Orange-Ginger Vinaigrette
1 generous tablespoon fresh ginger
½ garlic scape, diced
1 small shallot, diced
½ cup canola oil, plus one tablespoon
1 teaspoon dry mustard
2 tablespoons orange juice
Zest of half of one orange
2 tablespoons champagne vinegar or white wine vinegar
1 teaspoon honey
Salt
Fresh ground pepper
For the salad: The key to success lies in slicing these veggies in such a way that they don't make your jaw tired when you eat it. It's a fair amount of work, but I find it best to first peel the veggies, then using the peeler, slice the beet, kohlrabi into thin rounds. Then using a knife, further slice these pieces  into thin sticks. Use the peeler to also cut the carrot and radishes into delicate pieces – there is no need to further cut these with a knife. Combine the sliced kohlrabi, beet, radish and carrot in a large salad bowl. Chop the sunflower sprouts into smaller pieces and sit these in.
For the vinaigrette, in a large skillet sauté the ginger, scape and shallot in a tablespoon of oil. Cook them very lightly, just to remove some of the bite from the ginger, which can be overwhelming. In a small bowl, combine the orange juice, orange zest, and vinegar. Add the salt and stir until it dissolves. Add the honey and combine well. Sprinkle in the dry mustard and whisk until it is incorporated. Finally, whisk in the oil, then add salt and pepper. Very lightly dress the kohlrabi salad – you can always add more vinaigrette but you can't take it away.