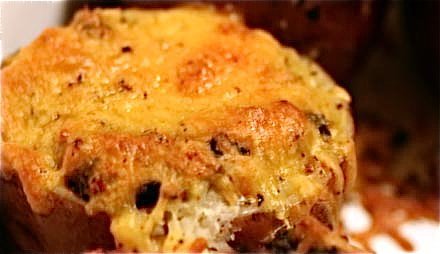 At first glance, especially with such an up-close shot (which I can take with my Christmas toy), it might look like I'm repeating myself. The last post was covered in cheese too. But no, I'm not losing my memory just yet. It was you. For whatever reason your comments just kept coming in response to the last post and I'll do anything for attention. I figured it had to be the cheddar.
Then when we step back a bit and snap the photo wide open, you can see we're actually dealing with potatoes. Under that cheese it's a whole different world this week.
To my mind, this is pinnacle of winter food. Heavy, steaming, need-a-nap—or-a-good-night's-sleep-after food. Winter has been keeping us steady company this week (though still no snow to speak of) and I hear it's going to get gaspingly cold this weekend, so what else is a girl to do? Next I'll be making pot pies.
The comfort of this potato dish not withstanding, I learned something important this week. You're going to laugh at me (or be horrified, one) but… I made my first ever fond. I know that sounds ridiculous, the fond being such a flavor powerhouse but honestly, I always thought they were for meat-eaters. Traditionally it's the browned beef or chicken that clings to the side of the pan until the wonderful deglazing liquid bubbles it loose, am I wrong? Apparently I was. Onion and garlic fond is worth its weight in saffron! Heady stuff.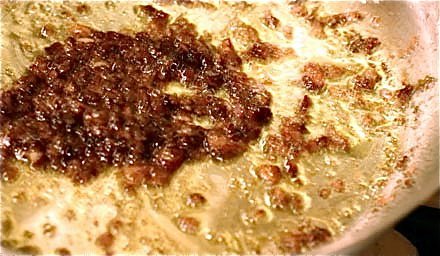 It's like the cell phone and the  Ragg wool sock — how ever did I cope before? So now I know. We can just forget I ever didn't.
The inspiration for this recipe came from my current favorite cookbook, which was sent to me at Christmas by my sister-in-law in Seattle. Anne-Marie doesn't have much time to cook herself these days, with three boys under 8, but she always knows somehow. All of my best cookbooks have come from her. This year's surprise, when the gift wrap slid off and onto the floor, was The Farm to Table Cookbook: The Art of Eating Locally by Ivy Manning.
Now, locavor-itis is so epidemic it's almost not cool anymore, but this book rises above all the jargon and frenzy. For one thing, it's more than just a cookbook – it's a primer. Ever wonder just what the difference really is between all those beautifully garish, hard-shelled winter squash? Or whether the plethora of delicate spring greens have distinctive flavors? It's in there. And the pages are sprinkled with recipes from well-known chefs from prestigious restaurants across the country (Paley's Place, Carafe, Tilth) so it's sort of like getting ten cookbooks in one. Even if you never actually use the recipes, the photos make this collection coffee-table worthy.
I'll use them though. It's one of my New Year's goals — but perhaps more on that next time.
So, how did I arrive at this recipe to start my journey? I picked up a bunch of Redbor kale at my Whole Foods market and flipped to the winter section of the cookbook to find out what I could make with it. The redbor is a hearty, almost squid-inky purple winter variety (most kale prefers colder temps) that's at its peak from November through March. Crisp and tightly curled, it keeps its stunning color after it has been cooked.
There are no beans in this recipe. I thought of throwing some in but that would have been merely gratuitous and you all don't tend to put up with stuff like that.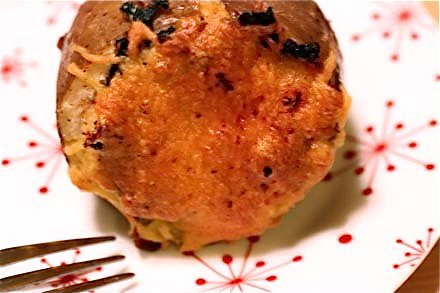 Twice-Baked Irish Potatoes with Irish Beer and Purple Kale
4 large (8-10 ounces each) russet potatoes, scrubbed and unpeeled
1 tablespoon plus 2 teaspoons olive oil
1 medium red onion, finely diced
4 cloves garlic, minced
1 cup Guinness or other stout beer
1 small bunch Redbor or other red kale
2 Morningstar vegetarian sausage patties
1 cup buttermilk
1 ½ cups shredded cheddar cheese
1 teaspoon mustard powder
salt and freshly ground pepper
sprinkle of paprika (use half-sharp if you want a touch of heat)
Preheat oven to 400 degrees. Rub the potatoes with a teaspoon of the olive oil, then wrap each one individually in heavy aluminum foil. Place in the oven and bake until they are soft but not mushy, about 50 minutes. Allow them to cool slightly.
Heat a teaspoon of olive oil in a skillet. Cook the vegetarian sausage patties (honest, you won't be able to tell they're not meat. I can't….) until they are browned. Break them into small pieces with the edge of a spatula and brown them some more.
Heat the remaining olive oil in a stainless steel (not non-stick!) skillet over medium heat. Add the onions and garlic and cook, stirring often, until they begin to brown, about 15 minutes. Add a splash of the Guinness and scrape the browned bits from the sides of the pan back into the mix. Continue to cook this way, occasionally deglazing the pan with a bit more beer until the onion/garlic mix is deeply browned and all the Guinness is used, about 30 minutes. You will have an incredibly rich and fragrant brown mess in the center of your pan.
Slice the ribs from the kale leaves and discard. Chop the leaves and toss half of it to the onion-garlic fond, stirring gently to wilt the leaves. Add the remaining kale, stir and then cover. Cook until it's tender, about 5 minutes. Remove the pan from the heat.
Using a sharp serrated knife, slice the top quarter of each potato. Using a small spoon, carefully scoop out the flesh from each potato, leaving a ¼-inch thick shell on the insides. In a bowl mash the potato flesh with the buttermilk, mustard powder and salt and pepper. Gently add the kale mixture, ½ cup shredded cheddar and the vegetarian sausage, stirring to combine. Mound the mixture back into the potato shells, then sprinkle the potatoes with the remaining cheddar and the paprika. Bake until the cheese is browned and bubbling, about 20 minutes.