Grilled Cocozella di Napoli Stuffed with Basil, Cheeses and Other Good Things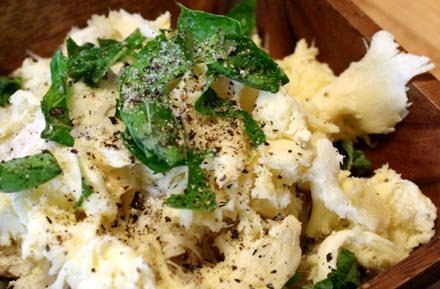 I was all set to give you a fantastic soup stock recipe, a la Ruhlman and his vexingly mathematical yet maddeningly brilliant book Ratio. Then I looked around and realized: no one's shooting off fireworks over soup broth. Because that's not very good for a picnic.  Three days of outdoor cooking lie ahead, and that calls for something a little more flammable, so in a true volte face, and in the spirit of seasonal propriety, let's catch something on fire instead.
If your garden is like ours right now, then you're going to have to start burning some zucchini soon just to keep on top of them.  I know, zucchini gets a bad rap and too many weary knock-and-run jokes revolve around the seasonal outbreak, but there are so many things to love about summer squash. Their flavor, their versatility, their hefty dose of vitamin C and their anti-cancer properties, sure.  But to an obsessive lingua-phile like me, it's their many monikers that's most enticing.
If you're British, where the summer squash is the 10th most popular vegetable, it's courgette. If you're a Shakespearian Brit, it's "marrows" (Timon of Athens. Really). Then there's "gagoots", which in Italian can mean either "crazy in the head", or "zucchini", also a word of Italian origin. Zucchini means "little zuccas", or little gourds.  And if you're a taxonomist  it's Cucurbitaceae. That one tormented me for years.  How do you pronounce a word like that?  "Cucumber" isn't a word that often comes up in a pre-Vatican II mass, and I never took Latin in school, and everyone I've ever asked who did has long forgotten the nuances of the language's elocution. The cu-cur-bit part was fine, but the last couple of syllables – how many? One? Three? – stumped me. Then, I met Paul's dog.
Paul is a farmer and one hot July afternoon his dog broke loose at the suburban farm stand where I sometimes buy tomatoes. "Cucurbitaceae," he yelled after it. "Come back here now or you're eatin this kale for dinner. Cucurbitaceae!" Bellowed out like so: Koo-ker-bih-TAY-see-ee.  Now that's a first and middle name rolled into one, and it's a lot to get out when your canine is bounding toward a woman who is evidently horrified by dogs and would no doubt be dashing away, straight into traffic, if only she could break out of her fear-induced catatonia. But he managed and Kookerbit, as the dog is called when he's not in trouble, was responsive and mostly obedient and so tragedy was averted all around. The lady bought her watermelon and even smiled wanly. And me? Well, I had added a long-sought prize term to my strange, expanding and largely archaic lexicon.
The Recipe
Here's another lingual nugget.  Squash, which is native to Central America, had migrated to North America by the time the Pilgrims arrived at Plymouth Rock. The Pilgrims shortened its native name from askootasquash, which meant "eaten raw" in Algonquin, to squash. They also promptly started cooking it, and the food was adopted by the Old World soon after.
The squash featured here is an Italian heirloom called Cocozella di Napoli, Though the striking fruit, notable for its fluted ribs and its stripes mottled with creamy flecks, is often eaten young, it's mild and tender even when allowed to grow to 12 inches. The flavor is distinct, sweet like a cucumber with a hint of pine nut that hits just in the back of the mouth.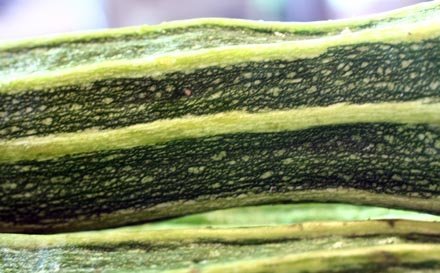 I love the beautifully scalloped slices. And look at the water droplets, drawn from inside the fruit, beading on the cut surface of the Cocozella.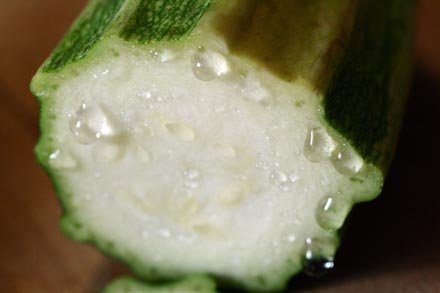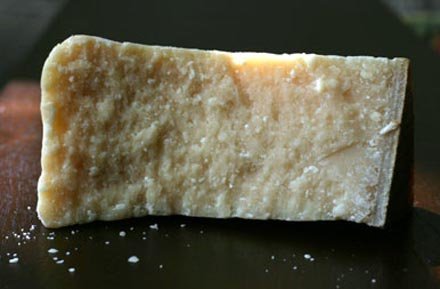 Oh, and before I go on, let's do the wine. It wouldn't be a barbecue weekend without some sound advice from Lucy. This week she offers red and white sipping options to go with your grilled gagoots: In the heat of summer, I would likely turn to a lightly oaked Chardonnay for the pairing.  The Chardonnay is light enough not to overpower the delicate squash and is one of the very few whites that will stand up to the Parmigiano-Reggiano and mozzarella.  Even if you are an avowed Chardonnay enemy, you'll find the buttery taste of the Chard only adds to the creamy/salty/slightly sweet flavors at play in the dish.
For those who would prefer a red wine, a light Montepulciano d'Abruzzo from Italy is an easy pairing.  It's got all the Italian acidity that works so well with cheese, garlic, and basil yet is light enough to not obliterate veggie dishes.  Although Montepulciano d'Abruzzo is not particularly well known, almost every wine store has one in stock.  Best of all, that sole bottle is usually great because, honestly who other than a wine snob is going to come in and ask for something with that many syllables? As an added bonus, since it flies under the radar, it's inexpensive to boot.

Grilled Cocozella Squash Stuffed with Basil and Other Stuff
3 whole Cocozella di Napoli squash – or other zucchini – about 8 inches long
2 slices of thick, artisanal bread — sourdough is good
1 garlic scape, or a couple of cloves garlic
A small handful of fresh mozzarella
A generous scoop of freshly ground Parmigiano-Reggiano cheese
Olive oil
Salt and fresh ground black pepper
A bunch of fresh basil, torn into chunks
These measurements aren't exacting, and they're not in order either, but you'll manage.  Leaving the courgettes whole, begin by scooping out the tops and the inner flesh.  You want to hollow them out enough to fill them with good stuff (I'd show you photos of mine but they didn't turn out so well and, well, my food is tasty but not always graceful). Set the flesh aside.
Chop the squash flesh and place it in a bowl. If you're using scapes, chop those into small pieces too; if you're using garlic cloves, you'll want to mince and sauté them, then add those as well.
I forgot the best part – when I went to pick scapes last week, I also made cheese! My friend Steph is becoming quite the artisanal cheese maker, and she walked me through making 45-minute mozzarella. Mine ended up looking a bit like cream cheese cookies, but hey, I made this and it was good! You probably don't have homemade mozzarella lying around, so just be sure to use a fresh cheese that's packed in water. Cut the mozzarella into thin, stringy slices and add to the bowl. Grate the Parmigiano and add that too. Drizzle with olive oil, salt and pepper, and mix to combine.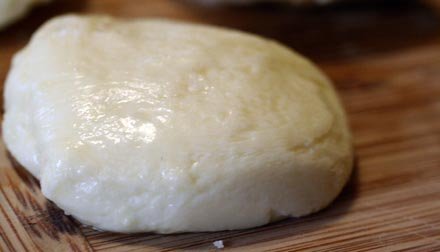 Fire up the grill. Brush the bread slices with oil and then sprinkle them with salt. Place them, along with the hollowed out cucurbitaceaea, on the grill. Keep a close eye on the bread as it will toast fast and you don't want to burn it. When it's browned and crunchy, work quickly to chop it into crumbs (food processor works well, if you happen to have one plugged in in the backyard…) and then add the breadcrumbs to the cheese mixture. Stir it well. By this point the zucchini should be getting soft and taking on those nice grilling marks. Scoop a generous amount of the stuffing mix into each zucchini, then place them back on the grill and cook a few minutes more, until the cheese is melting beautifully. Remove from the grill and add a generous amount of fresh basil to each one, then slice them in half and serve.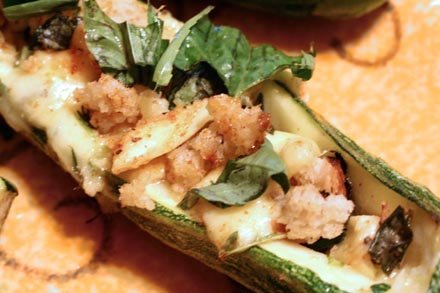 And don't' worry. We'll tackle Ruhlman and math in the kitchen next time, so add me to your Google reader or subscribe so you don't miss it.
Also, if you're more in the mood for a truly patriotic recipe, take a look at my Red White and Bleu Smoked Apple Salad from last year.
See you soon!