Chile-Chocolate Mole with Potato-Kale Burritos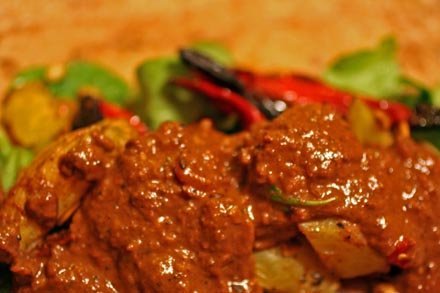 (Vegan, Vegetarian, Gluten-free option)
We all know one. Some braggart full of hyperbolic fanfaronade about the dragon-fire hot peppers he has taken down in his day. In my family, that was my dad. And true, he accomplished a lot. He sucked down impressive quantities of startlingly hot Chiltepins, barely wiping his brow after. A really good one would get him to make a little exclamation, something that sounded like "Hoo!" Then he'd laugh a little and turn away so we couldn't see his face.
That was before he encountered Savina in a dark alley one night. She was sleek and shiny, save for a few disarming dimples and, clad in fire engine red, she looked a bit dangerous. One has to wonder if he knew he was in over his head even before he sunk his teeth in. Either way, he'd staked a reputation on his chile-slaying prowess, so he really had no choice.
The Red Savina is a cultivar of the habanero, bred to be hotter than its progenitor. It weighs in at about 250,000 on the Scoville scale, meaning that its pure extract must be diluted in water 250,000 times before the heat of the capsaicin is undetectable. The Red Savina has 100,000 units on the ordinary habanero, which is accepted in the capsaicin-munching world as a pretty feisty specimen.
Red Savina didn't muck about, and it took no time at all for Dad to recognize the magnitude of what he was dealing with. Just seconds after swallowing a bite of the fresh fruit, he looked stunned, liked he'd been slammed full-on into a solid wall. Then in a flutter of facial activity, he had a moment of truth: the thing he'd just put in his mouth turned out to be alive. No amount of leaping and "hoo"-ing and dousing with fluid seemed to mitigate in the least what he was experiencing. Only time. About 12.5 minutes of time before the aroma rising from his pores quit making me wince. He let loose on that day a basket-weave of profanities that left me reaching for a dictionary, including some he'd apparently picked up in Germany in 1966 and had been saving for a special moment. And was I impressed with his daring? No, after that I was only worried, waiting for him to become an all-out nutter at any point..
The moral of the story? Well, my dad could say it best, and often did afterwards: "It does not matter who you are, or what you've done, or what you imagine you can do. There is a confrontation with destiny awaiting you. Somewhere, there is a chile that you cannot eat."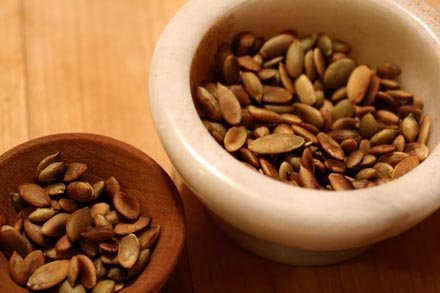 The Recipe
Don't worry, we're not confronting destiny today. We're sticking to the milder of the hot chiles. Still, any one of these is enough to elicit the name of the lord from the mouth of an unsuspecting eater . If I were going to offer you my own Scoville scale – my mother and her zero-tolerance on the far end, with my friend Jon, whose current mission is to track down the Naga Jolokia, the hottest chile pepper in the world at the far end of the other, well, this recipe falls just on the side closest to Jon.  So now you're warned.
You know by now that I have a thing for spicy food – and probably you've all figured out how to adjust your recipes to your own tolerance (anyone out there make them hotter?)  If you're not brave, use peppers you know. In this recipe, the ancho, paprika and chipotles are milder, with the cayenne falling in the middle. The kick comes from chiletpins
As I live the vegan life these 40 days and 40 nights, I find myself most restricted when it comes to sauces. So many good ones rely upon eggs, milk, butter and cream for their texture and flavor.  What good is a pesto without Parmesan? And without a good sauce, what have you got? So I'm on a quest to come up with a few good ones – versatile, fully flavored, rich and reliable. Here's my first.
This recipe comes from a treasure trove called Veganomicon. I'll tell you more about this book next time, but the short version is this: vegan or not, this book is brimming with creative recipes that are high-flavor, big impact, and wholly free of animal products. It's authored by Isa Chandra Moskowitz and Terry Hope Romero, both well known in the world of vegan cookery for their inspired recipes – specifically their talented vegan baking. Your homework is to dig up a copy of this book and give it a good browse so that we can talk more about it next time.
*A note on the chocolate part of this Chile Chocolate Mole. The concept is a sound one – the rich flavor adds a smokiness and a texture that really brings this sauce to life. The recipe as printed in Veganomicon calls for 3 ounces of chocolate, and this is way too much. Paring it down by an ounce makes it just about perfect, but you might even prefer less, so I'd add, stir and taste just until you reach the right balance.
Chile Chocolate Mole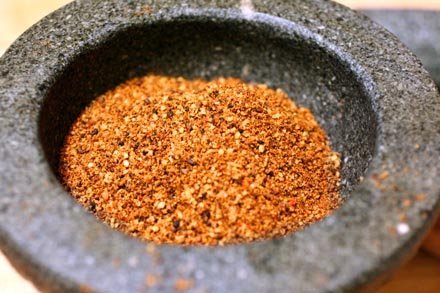 (from Veganomicon, page 211)
½ cup sliced almonds
1/3 cup crushed tortilla chips
2 tablespoons sesame seeds
1 teaspoon anise seeds
4 teaspoons chili powder (I used a mix of ancho, Aleppo, smoked paprika, chipotle, half-sharp paprika  chiltepins and cayenne)
1 ¼ teaspoons ground cinnamon
½ teaspoon ground cumin
½ teaspoon ground allspice
Mole base:
3 tablespoons canola oil
4 garlic cloves, minced
1 small onion, diced
2 cups hot vegetable broth
2 tablespoons creamy peanut butter (I substituted almond butter)
1 15-ounce can diced tomatoes
2 ounces chopped semi-sweet vegan baking chocolate*
Prepare the spice mixture: Place the almonds, tortilla chip crumbs, sesame seeds and anise seeds in a heavy-bottomed skillet. Toast over medium heat for 2-3 minutes, stirring frequently, until seeds have begun to brown.
Remove from heat and allow to cool slightly. Transfer ingredients to a food processor and add the mixed chiles, cinnamon, allspice and cumin and pulse until the mixture is combined and finely ground.
Using the same large skillet, sauté the garlic and onion in the oil until translucent, about 6 minutes.
In another bowl, combine the almond (or peanut) butter with a few tablespoons of the hot broth, stirring until the nut butter is emulsified and pourable. Add this mixture, along with the remaining broth, to the skillet. Add tomatoes and the spice mixture and stir to combine. Bring to a boil, lower the heat to medium low, and simmer for 8-10 minutes until the sauce is slightly reduced.
Add the chopped chocolate and stir constantly until it's melted and the mixture is smooth. Give the whole thing a good stir, making sure the ingredients are well-combined.
Note that the recipe makes a sizable portion. I've been eating it with tortilla chips and also as a dip for fresh veggies. It's also nice drizzled over roasted vegetables, and of course works as an accompaniment to most Tex-Mex fare.
Potato-Kale Burritos (loosely based on the recipe from Veganomicon, pg162)
½  lb potatoes (I used a mix of red, blue and yellow, and I oven roasted them)
1 red bell pepper
2 cloves garlic, minced
1-2 tablespoons canola oil or olive oil
½ teaspoon ground cumin
½ teaspoon paprika
Freshly ground pepper
¼  lb kale (or other winter greens – spinach and chard work well too)
A sprinkle of salt
¼ cup vegetable broth (water is fine too)
3 tablespoons lime juice (one large lime should do it)
¼ cup toasted pepitas (I didn't chop mine, contrary to the book's instructions)
6 whole wheat flour tortillas
Chop the potatoes into bite sized pieces and slice the bell pepper into strips. Place both in an oven-safe pan and drizzle with olive oil, making sure to lightly coat each piece. Add the minced garlic and a sprinkle of cumin, paprika and freshly ground pepper. Toss, then roast in an oven set to 375 degrees for about 35 minutes, or until potatoes are tender when pricked with a fork.
In a skillet, heat the vegetable broth. Add the kale or other greens, sprinkle with a bit of salt and then stir. Saute lightly just until greens are wilted. Note that kale will take longer (about 6-7 minutes) than spinach or chard (3 or so). Drain off any excess liquid, then squirt the greens with the lime juice. Set aside.
Place a flour tortilla on a plate. Place a layer of greens in the center of the tortilla, and layer a scoop of the potato-pepper mixture on top.  Sprinkle toasted pepitas over this, and then generously top a scoop of the Chile-Chocolate Mole. Fold ends toward the center and then roll into a secure bundle. Add more Mole to the top if you like, and serve.